Digging deeper into options to outsource logistics, the situation gets a little more gray – especially in the complex supply chain and transportation management environment where so many aspects of your business can be affected by diverse nodes across your network.
If you are reading this blog, you probably know what is involved with insourcing your supply chain management. Let's explore three approaches to outsourcing. The model that best fits your business depends on your goals.
Complete, Monitored Logistics Control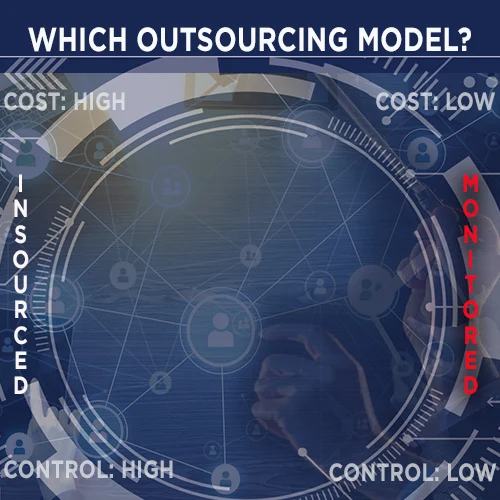 If complete in-house operational management is at one end of the spectrum, monitored outsourcing is on the opposite end. This is the throw-it-over-the-wall type of outsourcing.
That's the original equipment manufacturer that says, "Hey, I need to make this widget. Here are the specs. This is how many we need. This is when we need them."
You might examine activity once a quarter, once every six months, maybe only once a year. If something breaks, it is very hands-off.
A lot of times in logistics management, there's not a lot of differentiation in that monitored outsourcing. A lot of times, it is going to cost a lot less and yield a lot less added value. In this scenario, you don't have the management resources or the people you need it to manage a business function, so you put that completely on your service provider.
Orchestrated Outsourcing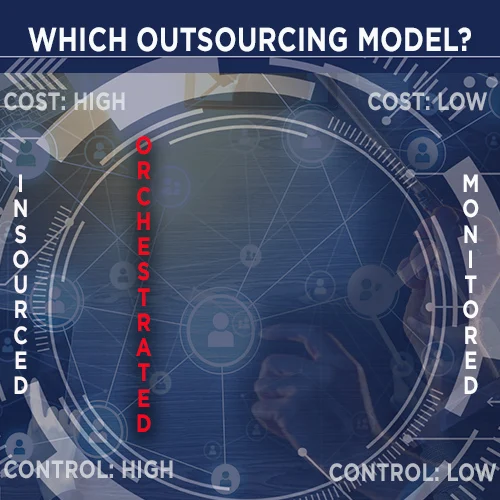 With an insourcing environment, you have complete control, but you also face the most cost in the staffing of expertise, technology resources and all those strategic drivers in your supply chain performance.
In an orchestrated approach you relinquish a measured amount of activity.
A lot of 3PL relationships today operate in an orchestrated model. When you outsource logistics, you are relying on a 3PL, maybe it's a broker that executes shipments, but you are still managing them. You have staff assigned to oversee their performance, track those shipments and make sure that 3PL is doing the things they need to do.
There is a lot more review, a lot more interaction, and of course, you are still driving that strategy piece.
Hybrid Logistics Outsourcing Model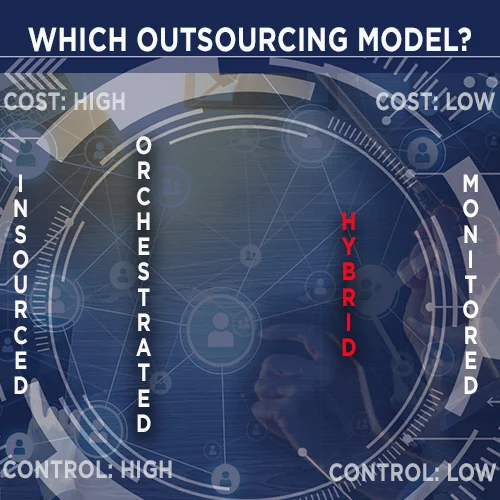 You can often realize the most benefit through a hybrid approach. Here, you outsource key functions and access expertise-driven intelligence that supports ongoing improvement. You give up a measured amount of control, but develop a strategic trust that can help you determine service adjustments as business demands change.
In a hybrid approach, our logistics experts might be on site with you, right in there operating in your supply chain. As things change, minute-by-minute, hour-by-hour, day-by-day, as your partner, we are there ready to pivot our objectives as well.
This creates a strong strategic alignment, and it allows for a lot of trust and transparency. We operate as your logistics department, utilizing performance monitoring processes that help you hold our team more accountable for results.
What Logistics Outsourcing Approach is Best for Your Business?
Understanding your company's internal people, process innovation, technology, and culture helps you decide whether to insource or pursue orchestrated, hybrid or monitored outsourcing.
You can start with one model and adjust with emerging change – in business strategy, human resources, marketing or supply chain disruption. The challenge is, as we saw in the first half of 2020, things are changing at a pace we have never experienced before.
Having a strategic partnership in place can help you adjust the control you want to have. More importantly, in that close partnership you will always realize more value in responsive communications and rapid deployment of alternative supply chain strategies.